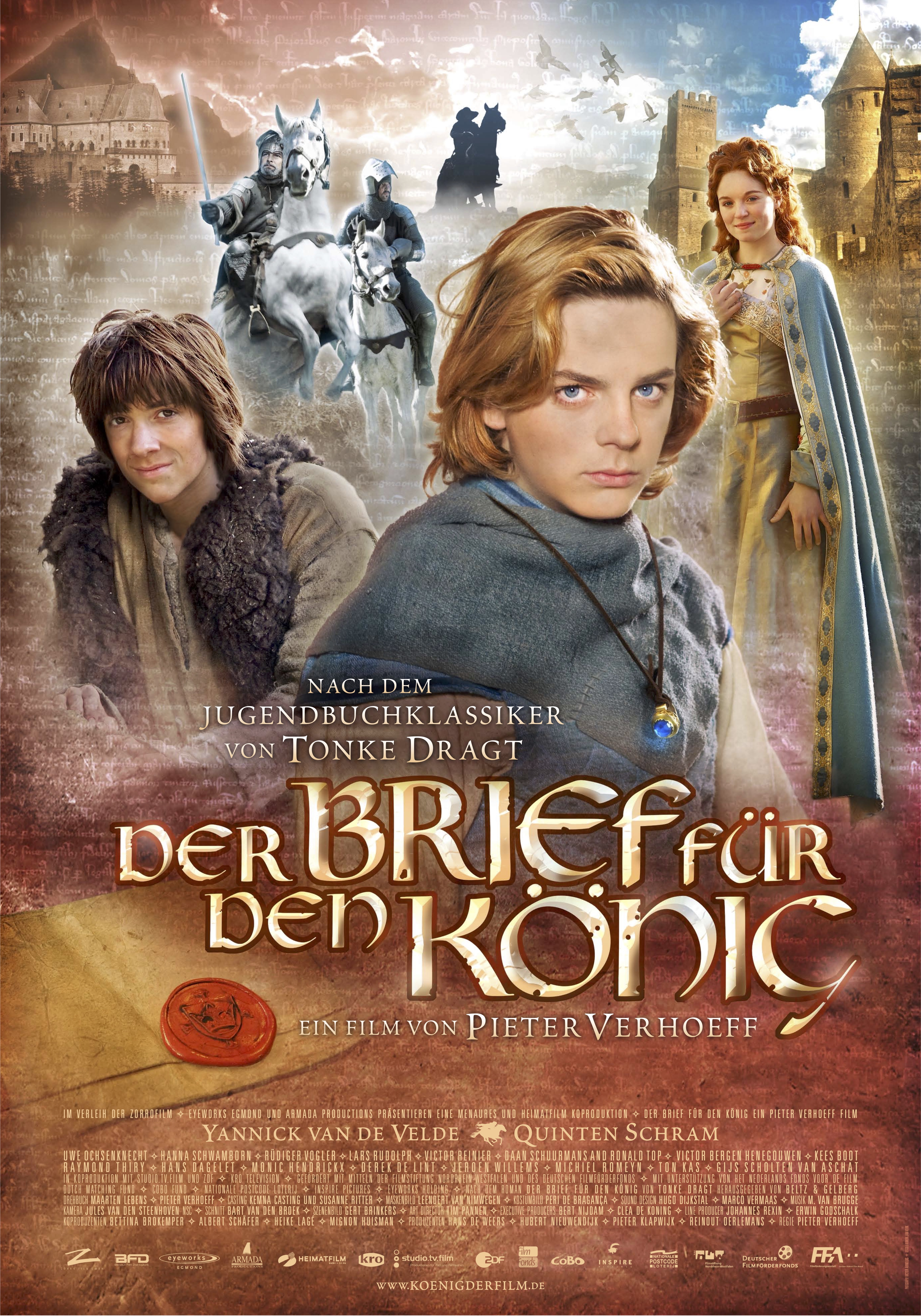 Synopsis
Young Tiuri has to pass the final test before before being knighted by king Dagonaut. He has to pass a night in the chapel, what is suddenly disturbed by a strangers request of help. With his decision to help the stranger, Tiuri abandons his given task and starts into an adventure, that will shape the destiny of Dagonaut. On his journey he learns about the true meaning of love, friendship, courage and loyalty.

"The Letter for the King" is the movie adaption to one of the most successful dutch books in the twentieth century. It was awarded with the "Griffel of Griffels" as the best youth book in the Netherlands.
Project Details
Director: Pieter Verhoeff
Script: Marten Lebens, Pieter Verhoeff
D.o.P.: Jules van den Steenhoven
Art Director: Gert Brinkers
Costumes: Peri De Bragança
Editor: Bart van den Broek
Music: Paul M. van Brugge

Cast: Yannick van de Velde, Quinten Schram, Rüdiger Vogler, Hanna Schwamborn, Uwe Ochsenknecht, Lars Rudolf

In coproduction with Eyeworks Egmond Film and television (Netherlands), KRO (Netherlands), Studio.TV.Film (Germany) and ZDF (Germany).
Support by DFFF and Filmstiftung Nordrhein-Westfalen.
Festivals
Kinofest Lünen 2008
Nederlands Film Festival 2008
Kinderfilmfest Schlingel 2008
Sprockets Toronto International Film Festival for Children 2009
Mill Valley Film Festival 2009
3. Marburger Kinder- und Jugendfilm-Festival "Final Cut" 2008
Emden Film Festival 2009
Chicago International Children's Film Festival 2009
Portland International Film Festival 2010
Noordelijk Film Festival 2015

Awards
Chicago International Children's Film Festival 2009 - Children's Jury Award - Foreign Language
Golden & Platin Film NL 2008 - Winner Golden Film (Director Pieter Verhoeff, Actor Yannick van de Velde, Producer Reinout Oerlemans, Production Company Eyeworks Egmond)
Schüler-Filmpreis des Kreises Unna 10+
Kinderfilmfest Schlingel 2008 - Hauptpreis der Sektion Juniorfilm (Fachjury)
Kinderfilmfest Schlingel 2008 - Juniorfilmpreis (Kinderjury)
3. Marburger Kinder- und Jugendfilm-Festival "Final Cut" 2008 - Preis der Kinderjury
Emden Film Festival 2009 - Emden Film Award (nominated)
Emden Film Festival 2009 - Bernhard Wicki Award (nominated)