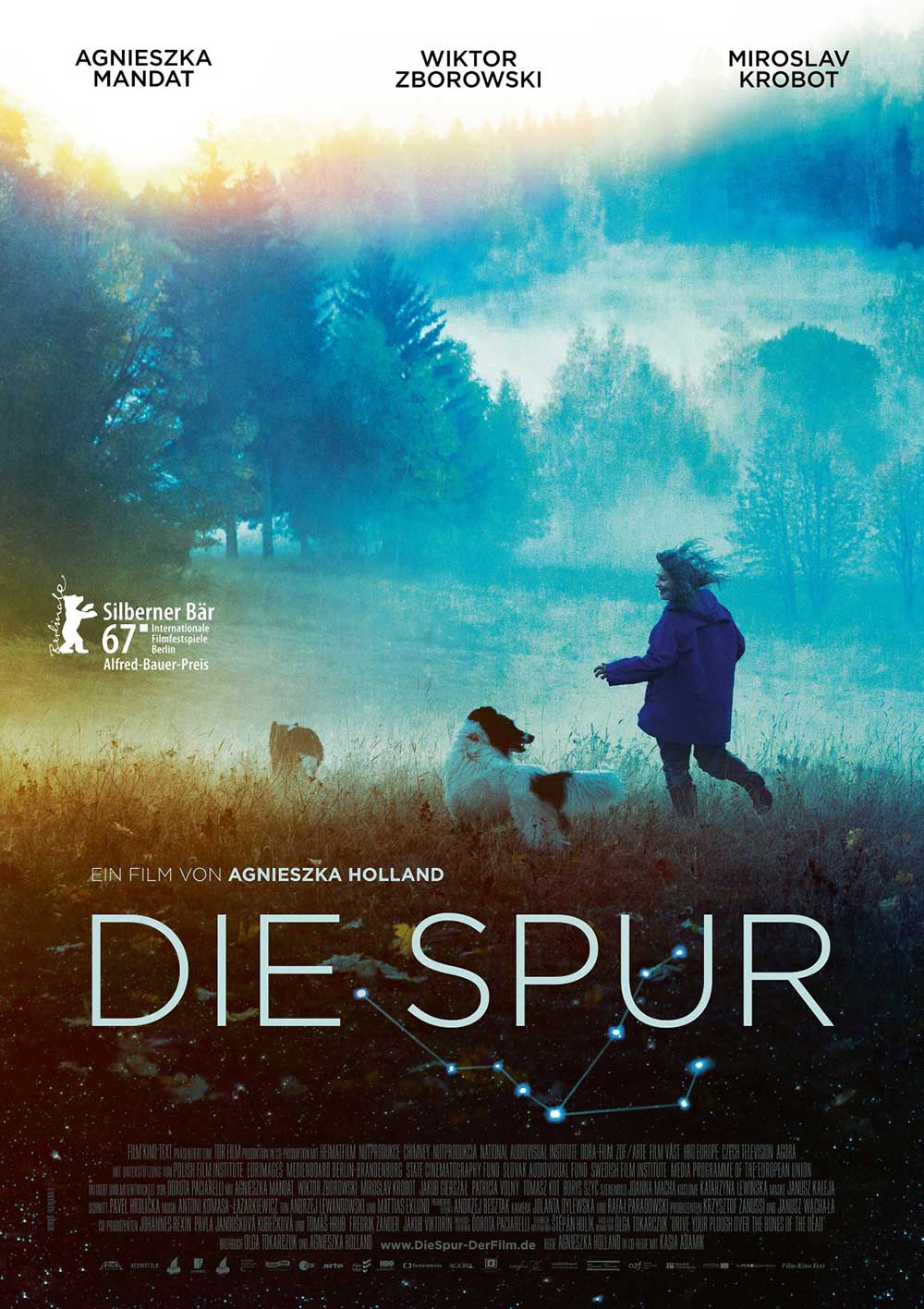 Synopsis
Janina Duszejko, a former engineer, an astrologist and vegetarian, lives in a small picturesque village in the Sudeten Mountains. One night, she stumbles on the dead body of a neighbour. The poacher died a mysterious death. There are traces of roe deer hooves around his house… In time, dead bodies of the local VIPs are discovered. All of them were hunters. Duszejko tries to convince the local police force that they were murdered by wild animals. As another VIPs is found dead, Duszejko becomes the main suspect. When the local parish house burns down and the priest and chaplain of the local hunting association dies in flames, the police are almost certain who did it… This subtly humorous story of friendship, love of nature and vengeance, with unique, ambiguous characters will be a mixture of high-end and low-end genres from psychological drama to pastiche-like detective story.

Project Details
Script & Director: Agnieszka Holland
DoP: Jolanta Dylewska
Sound: Andrzej Lewandowski
Art Direction: Joanna Macha
Costume Design: Katarzyna Lewińska
Editor: Pavel Hrdlicka

Production:
TOR Film, Janusz Wachala
Heimatfilm, Johannes Rexin
Nutprodukce, Tomas Hruby

The Chimney Pot, Fredrik Zander

Cast: Agnieszka Mandat, Wiktor Zborowski, Jakub Gierszał, Miroslav Krobot

The film's development stage has been funded with support from the MEDIA Programme of the European Union and Polish-German Co-Production Fund. Medienboard Berlin-Brandenburg supported the production together with TV-Partner ZDF/Arte.
Festivals
Premiere: Berlinale 2017
Cleveland International Film Festival 2017
Fanstasia Film Festival 2017
International Cinematoraphers' Film Festival Manaki Brothers
Neuchâtel International Fantastic Film Festival 2017
Polish Film Festival 2017
Valladolid International Film Festival 2017

Awards
Berlinale 2017 - Silver Bear/Alfred Bauer Prize
Europäischer FiImpreis 2017 - European Costume Design - Katarzyna Lewinska
Cleveland International Film Festival - George Gund II Memorial Central and Eastern European Film Competition (Nominated)
Cleveland International Film Festival - ReelWomaenDirect Award for Excellence in Directing by a Woman - Agnieszka Holland (Nominated)
Fanstasia Film Festival 2017 - Best Film
Indiewire Critics' Poll Best Undistributed Film (Nominated)
International Cinematographers' Film Festival Manaki Brothers 2017 - Golden Camera 300 - Jolanta Dylewska (Nominated)
Neuchâtel International Fantastic Film Festival 2017 - Best European Fantastic Feature Film (Nominated)
Nichational Society of Film Critics Awars, USA, 2017 - Special Citation - Agnieszka Holland
Polish Film Awards 2018 - Best Film (Nominated)
Polish Film Awards 2018 - Best Director (Nominated)
Polish Film Awards 2018 - Best Script (Nominated)
Polish Film Awards 2018 - Best Cinematography (Nominated)
Polish Film Awards 2018 - Best Sound (Nominated)
Polish Film Awards 2018 - Best Actress - Agnieszka Mandat (Nominated)
Polish Film Festival 2017 - Best Director - Agnieszka Holland
Polish Film Festival 2017 - Best Make-Up - Janusz Kaleja
Polish Film Festival 2017 - Golden Kangaroo - Best Actor - Jakub Gierszal
Polish Film Festival 2017 - Golden Lions - Best Film (Nominated)
Valladolid International Film Festival 2017 - Golden Spike - Best Film (Nominated)
Valladolid International Film Festival 2017 - Best Actress - Agnieszka Mandat