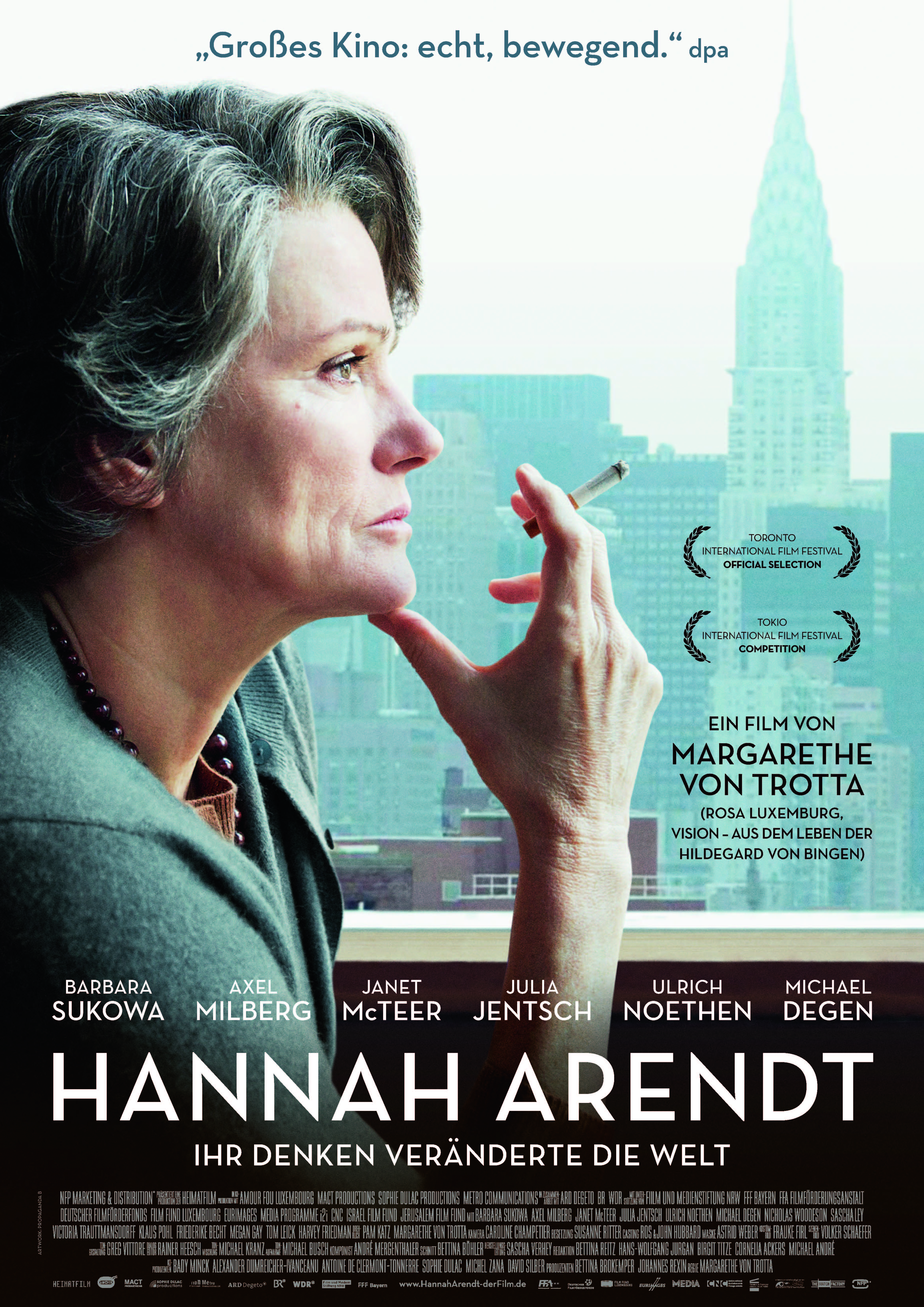 Synopsis
Jewish-German philosopher Hannah Arendt fled from Nazi Germany to the United States, where she, among other things, worked as a university tutor. Then "The New Yorker" sent her to cover the trial of Adolf Eichmann in Israel and she wrote her book "A Report on the Banality of Evil", that started a controversy.

Project Details
Director: Margarethe von Trotta
Script: Pamela Katz & Margarethe von Trotta
D.o.P.: Caroline Champetier
Sound: Michael Busch
Art Director: Volker Schäfer
Costumes: Frauke Firl
Editor: Bettina Böhler

Cast: Barbara Sukowa, Axel Milberg, Janet McTeer, Julia Jentsch, Ulrich Noethen, Michael Degen, Victoria Trauttmansdorff, Klaus Pohl

Produced by Bettina Brokemper & Johannes Rexin, Coproducers Bady Minck & Alexander Dumreicher-Ivanceanu (AMOUR FOU Luxembourg sàrl), Antoine de Clermont-Tonnerre (MACT Productions, France), David Silber (Metro Communications, Israel).

In coproduction with Degeto Film GmbH, BR, WDR. Supported by Film- und Medienstiftung Nordrhein-Westfalen, FFA, FFF Bayern, DFFF, Film Fund Luxembourg – CIAV and Film Fund Luxembourg – Fonspa, CNC, Israel Film Fund, Jerusalem Film and Television Fund, Eurimages.
Festivals
Toronto International Film Festival (Special Presentation)
Tokio International Film Festival
Gotenborg International Film Festival 2013
Braunschweig International Film Festival
Internationales Women Film Festival Rehovot (Israel) 2012
Filmfestival Cesuna Gallium Roana 2014
Kirchliches Filmfestival 2013
São Paulo Film Festival 2012
Dallas International Film Festival 2013
Shanghai International Film Festival 2013
Den Norske Filmfestivalen i Haugesund 2013
Milwaukee Film Festival 2013
Cambridge Film Festival 2013
Muestra de Cine Europeo Ciudad de Segovia 2014
Créteil International Women's Film Festival 2018
La Rochelle International Film Festival 2019
Free Zone Film Festival 2012
Ljubljana International Film Festival 2012
German Film Days in Copenhagen 2012
Human Rights Film Festival 2012
Palm Spring International Film Festival 2013
New York Jewish Film Festival 2013
Seattle Women in Cinema 2013
Santa Barbara International Film Festival 2013
Portland International Film Festival 2013
Athena Film Festival, NY 2013
Miami International Film Festival 2013
Sofia International Film Festival 2013
Vilnius International Film Festival 2013
Bozen Film Festival 2013
Bari International Film Festival 201
Bucharest International Film Festival 2013
Istanbul International Film Festival 2013
Buenos Aires International Independent Film Festival 2013
International Women's Film Festival in Seoul 2013
Max Ophüls Preis Filmfestival 2015
Fünf Seen Festival 2015
Gold Coast International Film Festival, New York 2013
Festival des deutschen Films in Moskau 2013
Europäisches Film Festival Kalinikgrad 2014
Victoria Film Festival, Kanada 2013
Copenhagen Jewish Film Festival 2021
Sedona International Film Festival 2013
San Francisco Jewish Film Festival 2013
Feminist Film Festival Mississippi State University 2018
Stanford Repertory Theater Film Festival 2018
Awards
German Film Award 2013 – Silver LOLA for Best Picture
German Film Award 2013 – Golden LOLA for Best Actress (Barbara Sukowa)
Prix Eurimages 2013
Tallin Black Nights Film Festival 2012 - Grand Prize (Nominated)
Tokyo International Film Festival 2012 - Tokyo Grand Prix (Nominated)
Bayerischer Filmpreis 2012
Amnesty International Award Strasbourg 2013
Chlodtrudis Awards 2014 - Best Actress Barbara Sukowa (Nominated)
Chlodtrudis Awards 2014 - Best Supporting Actress Janet McTeer (Nominated)
European Film Awards 2013 - Best Actress Barbara Sukowa (Nominated)
German Film Award 2013 - Best Make-up (Nominated)
German Film Award 2013 - Best Costume Design (Nominated)
German Film Award 2013 - Best Director (Nominated)
German Film Award 2013 - Best Script (Nominated)
Lëtzbuerger Filmpräis 2014 - Price for the best fiction coproduction
Gaudí Awards 2014 - Best European Film (Nominierung)
Preis der deutschen Filmkritik - Beste Darstellerin (Nominierung)
Gopo Awards, Romania 2014 - Best European Film (Nominierung)
Guild of German Art House Cinemas - Guild Film Award Gold
Romy Gala 2013 - Favorite Actress Barbara Sukowa (Nominierung)
Tallinn Black Nights Film Festival 2012 - Grand Prize (Nominierung)
Tokyo International Film Festival 2012 - Tokyo Grand Prix (Nominierung)
Valladolid International Film Festival 2012 - Best Film Silver Spike
Valladolid International Film Festival 2012 - Best Film Golden Spike (Nominierung)
Women Film Critics Circle Awards 2013 - Best Movie by a Woman (Nominierung)
Women Film Critics Circle Awards 2013 - Best Actress (Nominierung)
Women Film Critics Circle Awards 2013 - Best Foreign Film by or About Women
Jury der Evangelischen Filmarbeit 2013 - Film des Monats Januar 2013
Human Rights Watch Film Festival- Nestor Almendros Award
Festival International du Film d'Histoire de Pessac 2012 - Grand Prix
Festival International du Film d'Histoire de Pessac 2012 - Prix du Jury
Festival International du Film d'Histoire de Pessac 2012 - Prix des étudiants
Leo Baeck Institute New York 2012 - Leo Baeck Medaille
Directors Award, Berlin 2014
Film Critics Guild Japan 2014 - Best Film 2013
Voices Women and Film Festival Denver 2013 - Audience Award for Best Narrative Film
Federico Fellini Award for Cinematic Excellence to Barbara Sukowa, Bari 2013
Honorary Award for Margarethe von Trotta of Bavarian Minister President 2012
Honorary Dragen Award @ Göteborg International Film Festival 2013
Top Ten Best Films 2013 @ The New York Times 2014