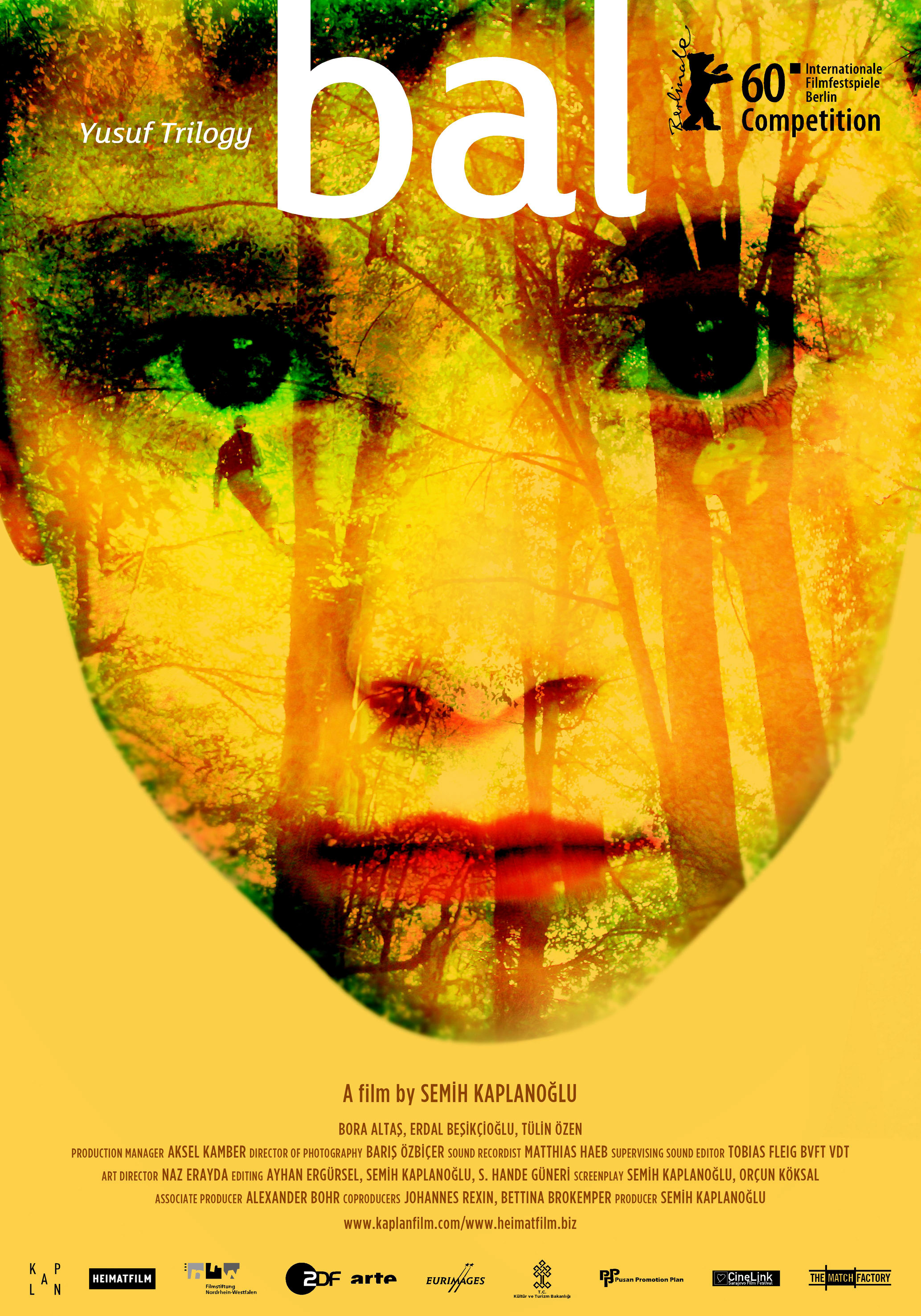 Synopsis
Honey ist he inner story of a boy who searches for his lost father at a point where he's trying to make sense of life, living in the remotest and wildest area of the eastern Black Sea Region where modern life has not yet penetratet.

After filming "Yumurta – Egg" and "Süt – Milk", "Bal – Honey" is the third part of Semih Kaplanoglus film trilogy and the second one Heimatfilm coproduces as German partner.
Project Details
Director: Semih Kaplanoğlu
Script: Semih Kaplanoğlu, Orçun Köksal
D.o.P.: Barış Özbiçer
Sound: Matthias Haeb
Editor: Ayhan Ergürsel, Semih Kaplanoğlu, S. Hande Güneri
Cast: Bora Altaş, Erdal Beşikçioğlu, Tülin Özen

A production of Kaplan Film (Semih Kaplanoğlu) and Heimatfilm (Johannes Rexin + Bettina Brokemper). In coproduction with ZDF/Arte. Supported by Filmstiftung Nordrhein-Westfalen and Eurimages.
Festivals
Premiere: Berlinale 2010
International Istanbul Film Festival - Official Competition
Golden Apricot Yerevan International Film Festival
Sarajevo International Film Festival
San Sebastian International Film Festival
Panorama of European Cinema - Opening film
MedFilm Festival - Official Competition
Festival World Cinema Ale Kino - Opening film
London Turkish Film Festival - Official Competition
Tallinn Black Nights Film Festival
Kerala International Film Festival
Dubai International Film Festival

Awards
Berlinale - Golden Bear for The Best Film
Berlinale - Ecumenical Jury Award
USA RiverRun International Film Festival - Best Film
USA RiverRun International Film Festival - Best Cinematography
France Chatenay-Malabry Paysages de Cinéastes Festivali - Grand Prix
London Turkish Film Festival - Golden Wings Digital Distribution Award
The Netherlands World Cinema Amsterdam 2010 - NTR Broadcast Award
Iran Hamedan Children Films Festival - Golden Butterfly for Best Cinematography
Poland World Cinema Ale Kino Festival - Audience Award
APSA Asia Pacific Screen Awards - Unesco Award
International İstanbul Film Festival - Best Director of Photography Award
International İstanbul Film Festival - People's Choice Award
Golden Boll Adana International Film Festival - Golden Boll for the Best Film
Golden Boll Adana International Film Festival - People's Choice Award
Turkish Film Critics Association (SIYAD) Prize - Special Jury Prize – Bora Altaş
Erzurum Dadaş Film Festival - Best Director