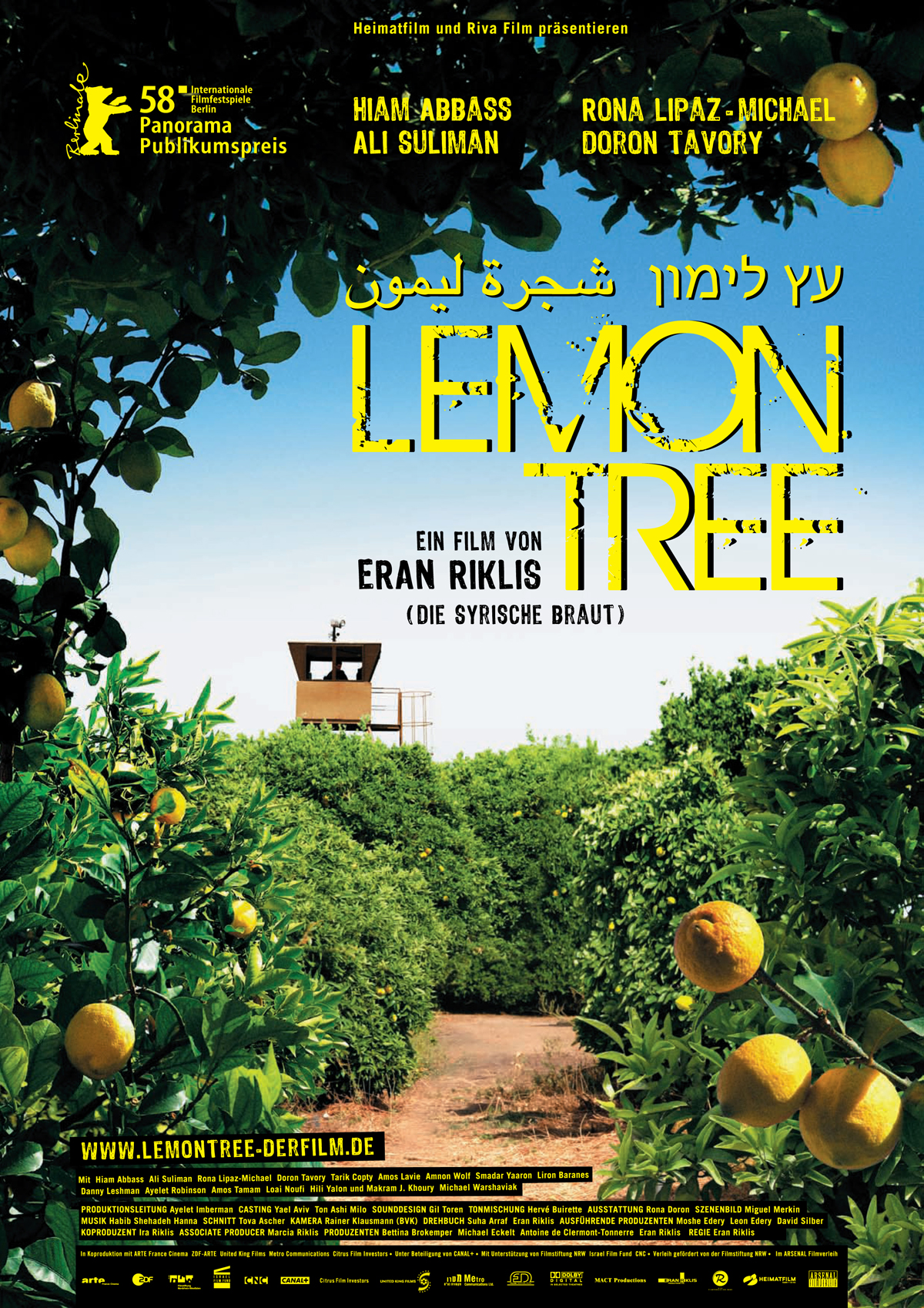 Synopsis
Palestinian widow Salma lives off a lemon grove next to the Green Line border between Israel and the West Bank. Her new neighbor on the other side happens to be the new Israeli minister of defense, Israel Navon. His secret service men regards Salma's garden as a threat to his safety, and orders it to be uprooted. But Salma takes a stand against the destruction of her only source of income and brings the issue to the Supreme Court. Her struggle makes big waves: not only the international media take notice, even the minister's unhappy wife, Mira, becomes curious…

Eran Riklis is one of Israels most distinguished directors. Israeli-Arab borderline situations were already the topic of his last movie: "The Syrian Bride" (made by the same producers as "Lemon Tree") was released worldwide and won numerous awards.
Project Details
Director: Eran Riklis
Script: Suha Arraf, Eran Riklis
D.o.P.: Rainer Klausmann
Sound: Hervé Buirette
Art Director: Miguel Merkin
Costumes: Rona Doron
Editor: Tova Ascher
Music: Habib Shehadeh Hanna

Cast: Hiam Abbass, Ali Suliman, Doron Tavory, Rona Lipaz Michael, Tarik Copti

In coproduction with Eran Riklis Productions (Israel), MACT Productions (France) and Riva Film (Germany)
Support by Filmstiftung Nordrhein-Westfalen.
Festivals
Premiere: Berlinale 2009 - Panorama Publikumspreis
Festival Ciné Africano of Tarifa 2007 - Lobende Erwähnung
Chicago International Film Festival
Cinefan - Festival of Asian and Arab Cinema - Best Actress - Hiam Abbass & Rona Lipaz-Michael
Golden Apricot Yerevan International Film Festival - Winner Best Film

Awards
Asia Pacific Screen Awards - Best Performance by an Actress - Hiam Abbass
Asia Pacific Screen Awards - Best Screenplay - Suha Arraf & Eran Riklis
Awards of the Israeli Film Academy - Best Actress - Hiam Abbass
Awards of the Israeli Film Academy - Best Director - Eran Riklis (nominated)
Awards of the Israeli Film Academy - Best Editing - Tova Ascher (nominated)
Awards of the Israeli Film Academy - Best Art Direction - Miguel Markin (nominated)
Awards of the Israeli Film Academy - Best Costume Design - Rona Doron (nominated)
Awards of the Israeli Film Academy - Best Music - Habib Shadah (nominated)
Awards of the Israeli Film Academy - Best Sound - Gil Toren & Asher Milo (nominated)
David di Donatello Awards - Best European Film (Miglior Film dell'Unione Europea) Eran Riklis (nominated)
European Film Awards - European Actress - Hiam Abbass (nominated)
European Film Awards - European Screenwriter - Suha Arraf & Eran Riklis (nominated)
San Diego Film Critics Society Awards - Best Foreign Language Film (nominated)
Women Film Critics Circle Awards - Best Female Images in a Movie
Women Film Critics Circle Awards - Best Foreign Film by or About Women (nominated)