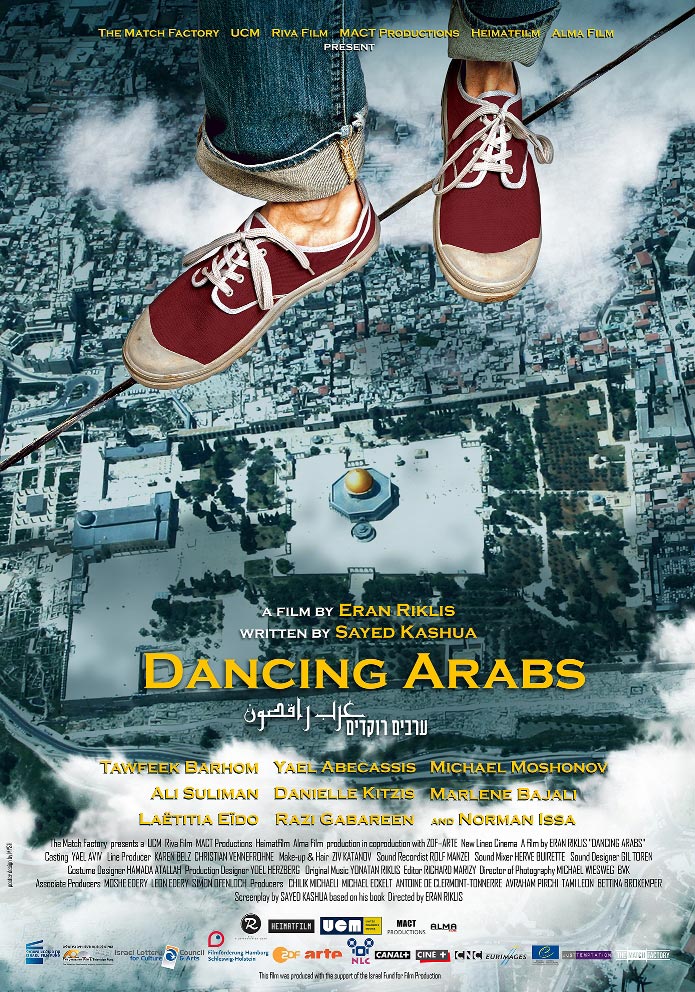 Synopsis
1987: The first Intifada. 1991: The Gulf War. Two major events in the Middle East, two major stations in the life of young Sayed, a boy who grows up in an Arab town within Israel, surrounded by a loving family which is also a bit crazy and quite funny. A father who is a Communist and a terrorist, a mother who hugs but also disciplines him, a charming grandmother full of secrets who knows everything about everything, a mysterious riddle that Sayed solves, friends from the town and guests from Tel Aviv and above all – a funny story about the search for identity, a search that changes dramatically when Sayed finds himself in a boarding school in Jerusalem where he finds love, compassion, where he finds who he really is but changes identity to start a new life – no longer an Arab, no longer a Dancing Arab.

Project Details
Director: Eran Riklis
Script: Sayed Kashua
D.o.P.: Michael Wiesweg
Sound: Rolf Manzei
Art Director: Yoel Herzberg
Costume Design: Hamada Attallah
Editor: Richard Marizy

Cast: Tawfeek Barhom, Yael Abecassis, Michael Moshonov. Ali Suliman, Danielle Kitzis among others

Produced by Michael Eckelt (Riva Film, Germany), Bettina Brokemper (Heimatfilm, Germany), Antoine de Clermont-Tonnerre (MACT Productions, France) and Chilik Michaeli & Tami Leon (United Channels Movies, Israel).

Supported by Filmförderung Hamburg-Schleswig-Holstein und Eurimages. In co-production with ZDF/Arte.
Festivals
San Francisco International Film Festival 2015
Hofer Filmtage 2014
Jerusalem International Film Festival 2014
BFI London Film Festival 2014
Hamptons International Film Festival 2014
Telluride Film Festival 2014
Cinefest Sudbury International Film Festival 2014
Gdansk ECS All About Freedom Festival 2014
São Paulo International Film Festival 2014
Sarlat Film Festival 2014
Arras Film Festival 2014
Tallinn Black Nights Film Festival 2014
UK Jewish Film Festival 2014
Palm Springs International Film Festival 2015
Febio Film Festival 2015
International Film Festival Vilnius 2015
Cleveland International Film Festival 2015
Minneapolis-St. Paul International Film Festival 2015
Arabian Film Days 2015
Dallas International Film Festival 2015
Toronto Jewish Film Festival 2015
Israeli Film Festival, Ottawa 2015
Cinetopia International Film Festival 2015
KolNoa Festival 2017
Rehoboth Beach Jewish Film Festival 2016
Santa Fe Jewish Film Festival 2015
Sedona Film Festival 2015
Jewish Film Festival New Jersey 2016
Israeli Film Festival Philadelphia 2015
Daytimers Jewish Film Festival 2015
16th Hong Kong Jewish Film Festival 2015
Silicon Valley Jewish Film Festival 2015


Awards
Locarno International Film Festival 2014 - Variety Piazza Grande Award (Nominated)
Awards of the Israeli Film Academy 2014 - Best Actor (Nominated)
Awards of the Israeli Film Academy 2014 - Best Supporting Actor (Nominated)
Awards of the Israeli Film Academy 2014 - Best Art Direction (Nominated)
Awards of the Israeli Film Academy 2014 - Best Sound (Nominated)
Boulder International Film Festival 2015 - Best Feature Film