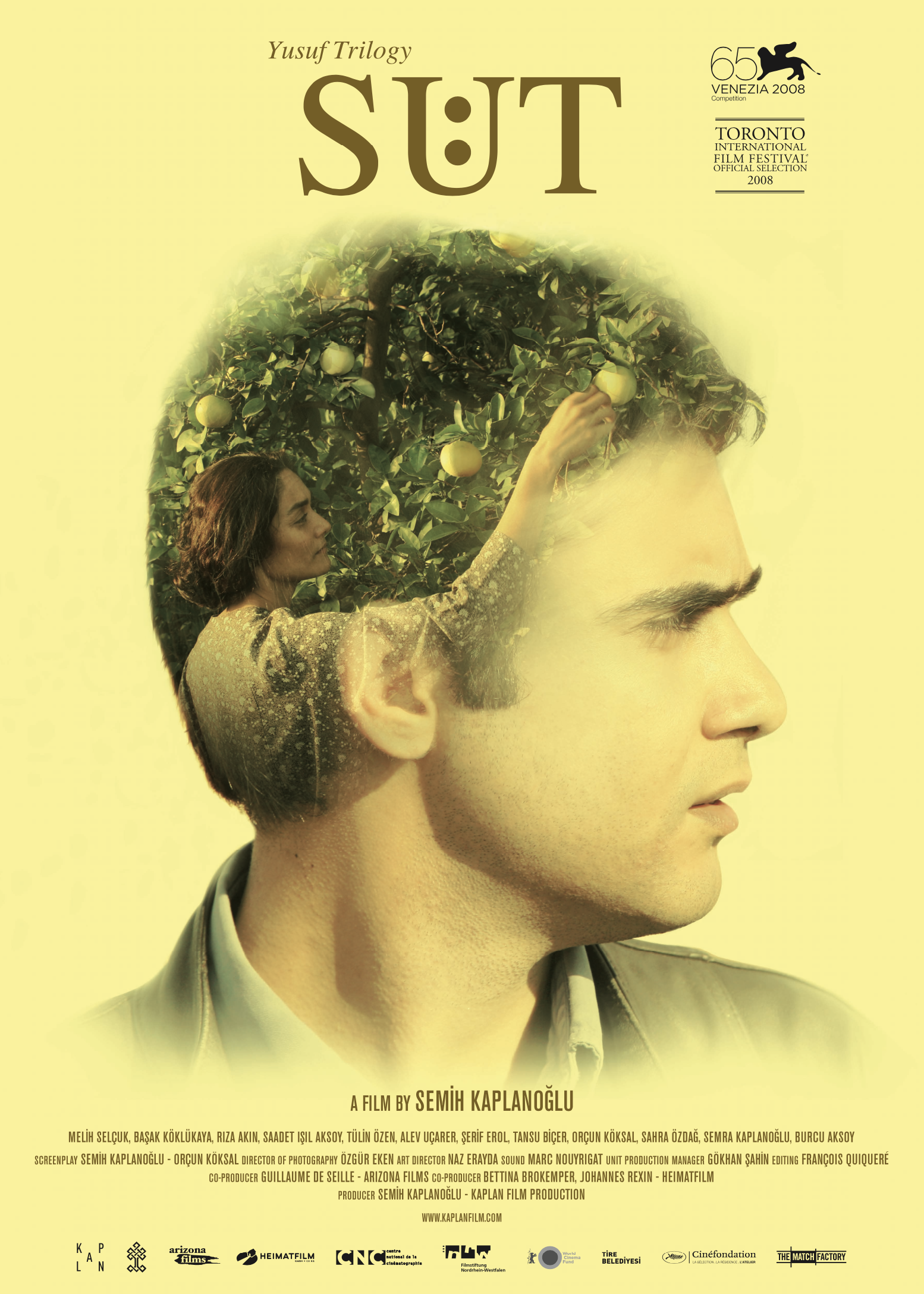 Synopsis
Fatma and her son Yusuf make ends meet with their two cows and the dairy products they produce and sell in the nearby city. Then the first "European" supermarkets open doors and threatens their livelihood. The conflicts opening up in that traditional role model appear between mother and son, make for the story of "Süt – Milk" in a snapshot of Turkish process rapprochement to Europe.

Project Details
Script & Director: Semih Kaplanoğlu
D.o.P.: Özgür Eken
Sound: Marc Nouyrigat
Art Director: Naz Erayda
Editor: François Quiqueré
Cast: Melih Selçuk, Basak Köklükaya, Serif Erol, Nejat Isler

In coproduction with Kaplan Film (Turkey) and Arizona Films (France).
Support by Filmstiftung Nordrhein-Westfalen and World Cinema Fund.
Festivals
Toronto International Film Festival 2008 - Visions
Venice Film Festival
Festival Internacional de Cine de Mar del Plata
Sao Paolo International Film Festival
Mar Del Plata International Film Festival
Rome Medfilm International Film Festival Competition Section
Thessaloniki International Film Festival - Balkan Survey
Poland World Cinema Ale Kino
Nantes 3 Continents International Film Festival - Competition Section
Pune International Film Festival
Rotterdam International Film Festival
Göteborg International Film Festival
Fajr International Film Festival
Belgrade International Film Festival
Sofia International Film Festival
Singapore International Film Festival
Crossing Europe Film Festival
Indielisboa International Film Festival
Innsbruck International Film Festival - Competition Section
Cines del Sur International Film Festival
Edinburgh International Film Festival
Jerusalem International Film Festival
Sarajevo International Film Festival
Rio de Janeiro International Film Festival
Romania International Film Festival
Abu Dhabi Film Festivali
Films Fra Sor International Film Festival
Bangkok World Film Festival
Hong Kong Summer Film Festival
Milano Film Festival
Haifa Film Festival
Sweden International Film Festival
London Turkish Film Festival
Tallinn Black Nights Film Festival
Silkroad Film Festival Dublin
Festival on Wheels (TR)
Istanbul International Film Festival
Adana Film Festivval
Antalya Golden Orange Film Festival
Granada Film Festival Cines del Sur
Kosmorama, Trondheim Internasjonale Filmfestival
Nantes Three Continents Festival

Awards
Adana Film Festivval 2009 - Most Promising Actor (Melih Selcuk)
Adana Film Festivval 2009 - Best Cinematography (Özgür Eken)
Istanbul International Film Festival 2009 - FIPRESCI Award
Istanbul International Film Festival 2009 - Best Cinematography
Istanbul International Film Festival 2009 - People's Choice Award
Sadri Alisik Theater and Cinema Awards 2009 - Promising Actor Award (Melih Selcuk)
Turkish Film Critics Association (SIYAD) Awards 2009 - Most Promising Artist (Melih Selcuk)
Turkish Film Critics Association (SIYAD) Awards 2009 - Best Film (nominated)
Turkish Film Critics Association (SIYAD) Awards 2009 - Best Director (nominated)
Turkish Film Critics Association (SIYAD) Awards 2009 - Best Cinematography (nominated)