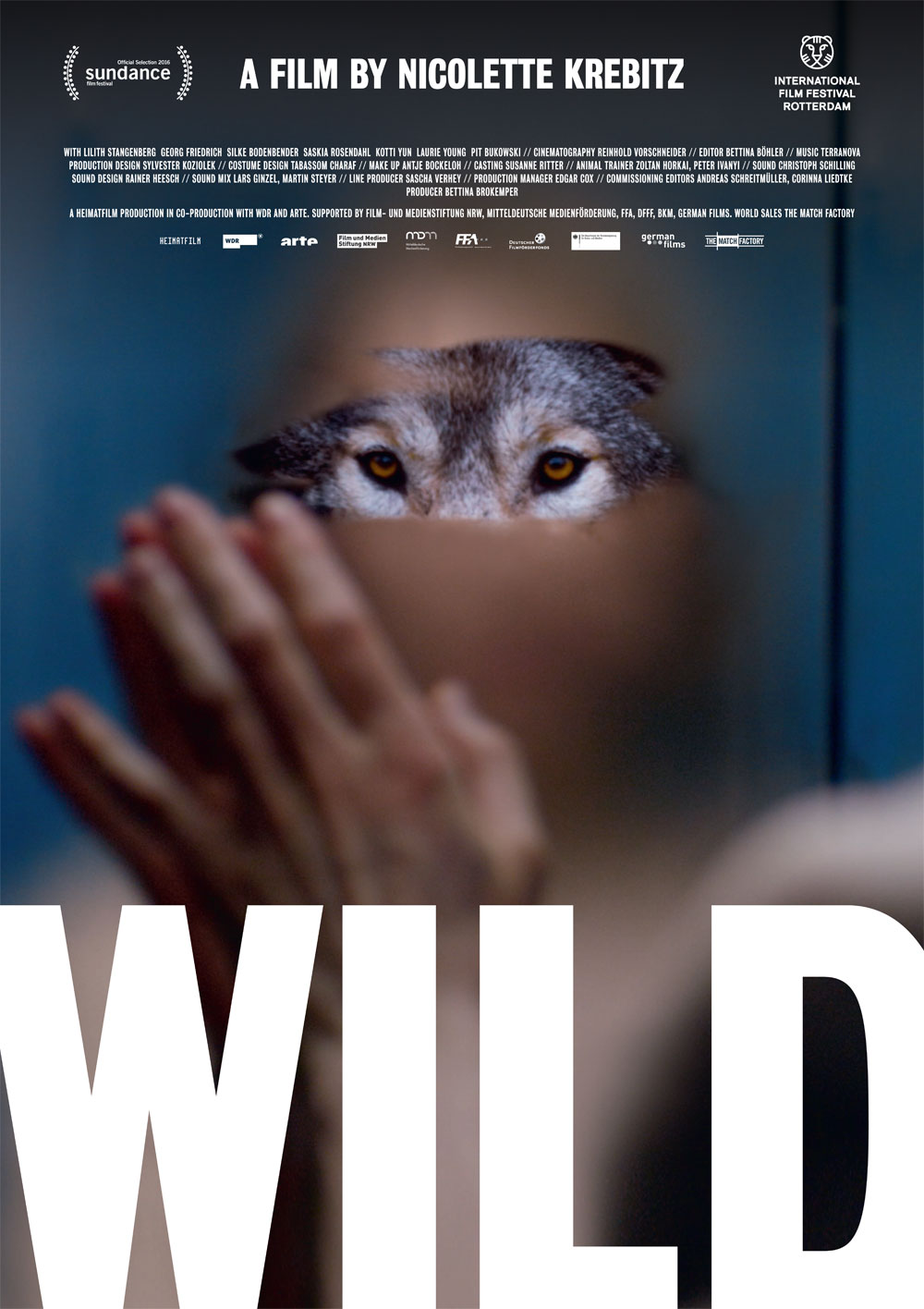 Synopsis
A woman has a strange encounter on her way to work. She fi nds herself gazing into a wild pair of eyes, and it seems to her that her entire life hitherto has been a joke. She cannot forget the instant and becomes a hunter who indeed fi nally manages to lock the wild creature in her high-rise apartment. Now she herself begins to assume a new identity, one which breaks with all the fetters of bourgeois life. Strangely, this pleases the people around her, particularly her boss… It seems they all share her secret yearning.

Project Details
Script & Director: Nicolette Krebitz
D.o.P.: Reinhold Vorschneider
Sound: Christoph Schilling
Art Direction: Sylvester Koziolek
Costumes: Tabassom Charaf
Editor: Bettina Böhler

Cast: Lilith Stangenberg, Georg Friedrich, Silke Bodenbender
Casting: Susanne Ritter Casting

Supported by Film- und Medienstiftung NRW, Mitteldeutsche Medienförderung, DFFF. Script development supported by FFA.
Festivals
Premiere: Sundance International Film Festival 2016
Rotterdam International Film Festivalm 2016
Göteborg IFF
San Francisco IFF
Jeonju IFF
Transilvania IFF
Festival des deutschen Films
Sydney Film Festival
Durban IFF
Art Film Fest Košice
New Zealand International Film Festival
Pluk de Nacht
Festival des deutschen Films,
Buenos Aires
Helsinki International Film Festival
Bergen International Film Festival
Athens Film Festival
German Film Week Manila
Festival des deutschen Films in Paris
GoetheFEST
Istanbul International Film Festival 2016
Luxembourg City Film Festival 2016
Netia Off Camera International Festival of Independent Cinema 2016
Neuchâtel IFF 2016
Saas-Fee Filmfest 2016
Jio MAMI Mumbai Film Festival
Copenhagen Pix
Janela Film Festival
London International Film Festival / BFI
Women Make Waves Film Festival
Scanorama
Leeds International Film Festival
Evolution Mallorca Film Festival
Rendezvous with madness Film Festival
GOA International Film Festival
Fancine Malaga
MUCES Film Festival
Singapore International Film Festival
Guadalajara International Film Festival


Awards
German Film Award 2017 - Bronze Lola for Best Picture
German Film Award 2017 - Best Supporting Actor Georg Friedrich
German Film Award 2017 - Best Cinematography Reinhold Vorschneider
German Film Award 2017 - Best Sound Design Martin Steyer, Lars Ginzel, Rainer Heesch, Christoph Schilling
German Film Award 2017 - Best Actress Lilith Stangenberg (Nominated)
German Film Award 2017 - Best Director Nicolette Krebitz (Nominated)
German Film Award 2017 - Best Editor Bettina Böhler (Nominated)
German Film Critics Association Award 2017 - Best Film (Nominated)
German Film Critics Association Award 2017 - Best Actor Georg Friedrich (Nominated)
German Film Critics Association Award 2017 - Best Cinematography Reinhold Vorschneider (Nominated)
Günter Rohrbach Filmpreis 2016 - Bester Film
Günter Rohrbach Filmpreis 2016 - Beste Darstellerin Lilith Stangenberg
Istanbul International Film Festival 2016 - Audentia Award Nicolette Krebitz (Nominierung)
Jupiter Award - Best German Actress Lilith Stangenberg (Nominated)
Luxembourg City Film Festival 2016 - Critics Award - Special Mention
Luxembourg City Film Festival 2016 - Grand Prix (Nominated)
Netia Off Camera International Festival of Independent Cinema 2016 - Best Feature Film (Nominated)
Romy Gala 2017 - Beste Produzentin Bettina Brokemper (Nominated)
Romy Gala 2017 - Beste Regie Nicolette Krebitz (Nominated)
Rotterdam International Film Festival - Big Screen Award (Nominated)
Sundance Film Festival 2016 - Grand Jury Prize - World Cinema - Dramatic (Nominated)